Joint Tenancies: Landlords & Medical Marijuana Businesses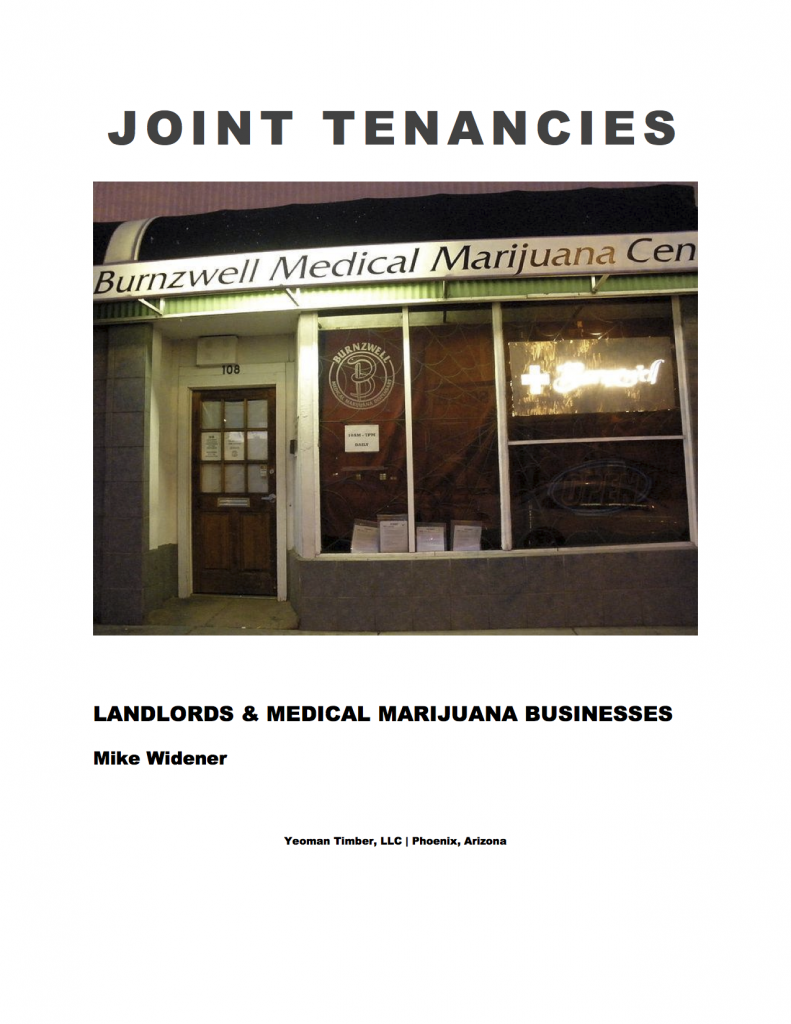 NOTICE:
Be sure to click "Return to Yeoman Timber, LLC" after completing your purchase to continue to the download page.
What people are thinking about Joint Tenancies:
"unique and would be of use in a law library"
"a useful and thought-provoking text for any landlord considering renting"
[expand title="Open FAQ" swaptitle="Close FAQ"]FAQ about Joint Tenancies: Landlords & Medical Marijuana Businesses
Who needs to read this book?
Commercial landlords
Property professions who want to know how medical marijuana businesses impact commercial real estate, like real estate agents, brokers and property and project managers
Investors in commercial property, especially owner-occupants
Real estate lawyers
Neighbors of medical marijuana businesses
Board members of project owners' associations where a medical marijuana business occupies space
Land use officials and planning and zoning staff personnel approving these businesses
Insurance brokers and agents in the property and casualty lines
Environmental consultants involved in indoor air quality issues
What's Covered in Joint Tenancies?
Land use barriers to be hurdled to get the medical marijuana business approved by a community
Private restrictive covenants that may impede establishing the business in a project or building
Understanding the fears of mortgage lenders working with a landlord and approaches to responding to those fears
Government forfeiture processes connected to criminal prosecutions of illegal activities
Environmental burdens to deal with in medical marijuana business operations
Neighbor occupant anxieties about the risk to their enterprises from the folks next door
Economic risks to commercial landlords from accommodating a medical marijuana tenant
What is the Value Proposition?
There is no other book on the market addressing the risks and opportunities awaiting landlords leasing to medical marijuana businesses
The forms and text provided give the landlord ways to analyze its appetite for making a lease and handling the consequences of moving in this new business model in its building or project
Who wrote Joint Tenancies?
Mike Widener is a real estate lawyer with 30 years practice experience and an investor in commercial property.  Mike represents a number of industrial and commercial property developers and owners  Mike's also a zoning adjustment hearing officer who has heard many controversial requests for zoning adjustment.[/expand]
Cover Photo Credit: Burnzwell Medical Marijuana Center, Denver, Colorado. Attribution: O'Dea at WikiCommons, licensed under the Creative Commons Attribution-Share Alike 3.0 Unported License, 2011.